Custom eyeshadow palettes have become a staple in the beauty industry and for good reason. They allow makeup enthusiasts to create their own personalized color schemes, tailored to their unique preferences. But have you ever wondered how these palettes are made? From selecting the perfect shades to designing the packaging, the process of custom eyeshadow palette manufacturing is fascinating.
In this comprehensive guide, we'll take you through every step of the way, from start to finish. You'll learn about the different types of eyeshadow formulas, how to choose the right shades, and the importance of packaging design. Whether you're a makeup lover curious about the behind-the-scenes of the beauty industry, or an entrepreneur looking to start your own custom eyeshadow palette business, this guide has got you covered. So, let's dive in and discover the intricate process of making your very own custom eyeshadow palette.
Eyeshadow Formulas Selection
The eyeshadow formulas play a critical role in the final product's performance. They are primarily divided into powder, cream, and liquid, each providing a different finish. The popularity of certain formulas can vary based on skin tone, preferred colors and finishes, and personal makeup style
Pressed Powder: This is the most common formula and is available in a wide range of colors and finishes, including matte, satin, shimmer, and metallic. Pressed powder shadows are easy to apply and blend.
Loose Powder: Loose eyeshadows offer high color payoff and are often used when a very bold or dramatic effect is desired. They can be a bit messier to work with compared to pressed powders, but are preferred by some for their intensity and sometimes for their natural ingredients.
Cream: Cream eyeshadows are praised for their smooth application and long-lasting formulas. They can be used as a base for other shadows, or alone for a quick and easy eye look. They often come in pots or sticks.
Liquid: Liquid eyeshadows come in a tube with a doe-foot applicator, similar to lip gloss. They are known for their longevity and are typically very pigmented. Once they dry down, they're less likely to crease or smudge.
Stick: Stick eyeshadows are great for travel or on-the-go touch-ups. They are often creamy and long-lasting and can be easily applied directly to the eye area and blended out with fingers.
Glitter: Glitter eyeshadows are popular for creating dramatic or festive looks. They come in several formats including loose glitter (usually requiring glitter glue), pressed glitter, cream, and liquid.
Understanding these different formulas and how they cater to various consumer needs and preferences is essential in designing your palette.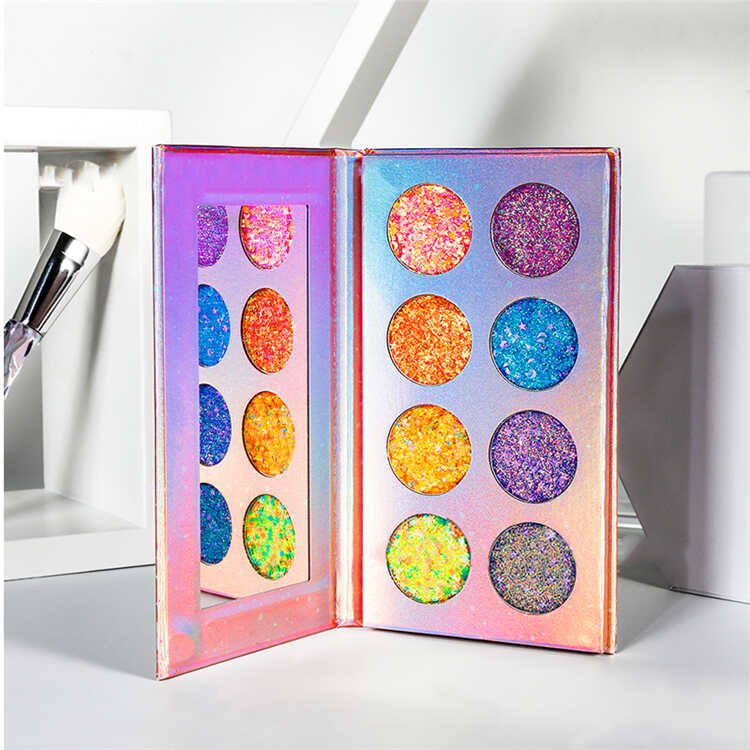 Selecting the Right Shades
Color selection is an art that requires a balance between trend-driven shades and timeless classics. It's essential to understand your target audience's preferences, trends in the makeup industry, and the overall market demand.
Neutral shades such as browns, beiges, and taupes are classic colors that cater to everyday makeup needs and should form the base of your palette. On the other hand, trendy colors like vibrant purples, greens, or blues can make your palette stand out and attract a younger, more experimental audience. A brand that has excelled in creating balanced color stories is ColourPop, blending staple neutrals with vibrant, trendy shades in their palettes.
Do your research, and develop an eyeshadow palette that reflects the preferences of your target markets. This could mean including a mix of matte and shimmer shades, neutral and bold colors, or designing a palette that can create both every day and evening looks. Prioritize quality – the eyeshadows should be pigmented, blendable, and long-lasting.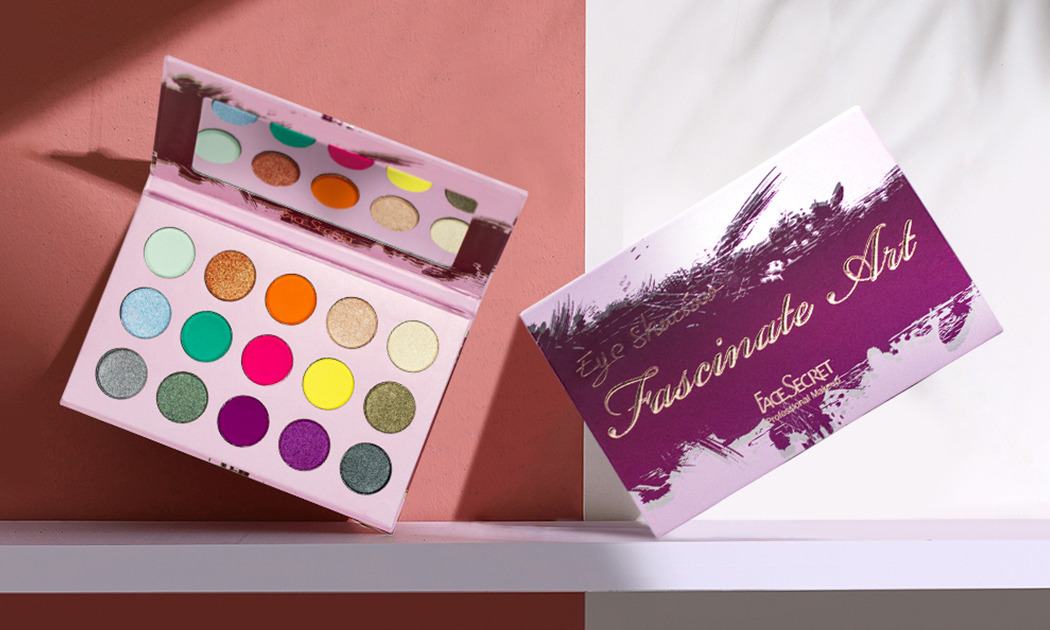 Popular Packaging Designs
Packaging design is a crucial element that can make or break your product's market appeal. Minimalistic packaging, inspired by brands like Glossier, is currently trending. It often involves a clean, simple design with a neutral color scheme, emphasizing the product itself.
Another popular trend is vintage-inspired packaging, which can give your product a unique and sophisticated charm. Besame Cosmetics is a great example of this trend, offering products with a classic, vintage aesthetic.
Luxurious packaging is another popular choice, often involving gold accents, bold colors, or intricate designs. Brands like Pat McGrath Labs and Natasha Denona embody this trend, providing products with high-end, luxurious packaging that communicates quality and exclusivity.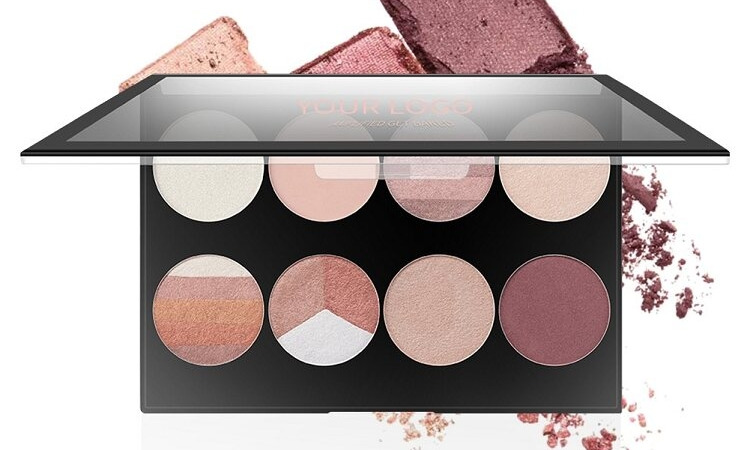 Crafting Your Custom Eyeshadow Palette: The Manufacturing Process
The manufacturing process of your custom eyeshadow palette involves careful planning and execution. It begins with creating the eyeshadow powders by blending pigments, binders, and fillers. These powders are then mixed to achieve your chosen shades.
Once the eyeshadow powders are ready, they are pressed into the palette pans. This requires careful control to ensure consistency and quality across all pans.
The pans are then assembled into your pre-designed palette. The final step involves packaging your product, ready for distribution.
This process might seem complex, but with a clear understanding of the steps involved, it becomes manageable. Brands like MAC have mastered this process, delivering high-quality, consistent eyeshadows in their palettes.
Conclusion
Producing a custom eyeshadow palette is a multi-faceted journey that covers everything from the nitty-gritty of formula selection to the creation of packaging design. Each formula carries its distinct attributes and application, requiring you to understand the diverse needs of makeup enthusiasts.
Choosing the right color scheme is a task that requires both creativity and market insight. Observing trends and understanding the timeless appeal of certain shades will aid you in crafting a palette that is both contemporary and classic.
Packaging design is another pivotal aspect where you can let your brand personality shine. Whether you're aiming for a minimalist aesthetic, a nostalgic vintage vibe, or an opulent luxury feel, your packaging should be both eye-catching and functional.
The manufacturing process, although intricate, is where your palette truly comes to life. Mixing, pressing, and packaging your eyeshadows demand precision and consistency to ensure the highest quality.
Stepping into the realm of custom eyeshadow palette manufacturing is undeniably a challenging endeavor. Cultural, climatic, skin tone, and socioeconomic differences among countries could influence preferences for certain colors, formulas, and packaging styles. Flexibility and adaptability will be key to your success in different markets.
About Leecosmetic
Leecosmetic is a wholesale cosmetic manufacturer in China that delivers quality cosmetics at competitive prices. We provide private label OEM/ODM custom makeup service.
FACESCRET and NEXTKING are our own brands of Leecosmetics. Distinct from our private label offerings, our own products are available with low minimum order quantities and are ready for immediate sale.
We pride ourselves on swift delivery and efficient processing. We welcome inquiries for both FACESCRET/NEXTKING products and our bespoke private label services.