Pores on the face are really a major issue in most of the girls. Pores are basically small openings at the top of our hair follicles that cover the entire body. The pores release sebum, our body's natural oil to naturally moisturize our skin to help keep it supple. The large pores can be frustrating, thus these require maintaining healthy skin.
If you listen to any professional makeup artist they will tell you a good primer is a perfect answer for minimizing the look of pores, fine lines, and textural imperfections which can be helpful to make a flawless complexion. But how to apply the primer in the correct way will help in reducing these face issues. The correct answer is pore-filling primer. At first, people didn't know whether this would really work or not but after applying this in the correct way, the opinions of many people changed.
What is a makeup primer? 
A makeup primer is a skin-prepping product that is applied after skincare to create a perfect canvas to apply foundation or BB or CC cream or concealer. A good primer will help your makeup stay longer and improves some of the skin issues too. Some primers focus on boosting hydrating for drier skin types. The pore-filling primers are mostly silicon bases and they work in minimizing pores and smoothing the surface of the skin. Mattifying makeup primers are made to control oil and shine for the ones who have oily skin types. Some primers are a mixture of all which means they do all these things all at once, there are many options to choose from out there to give a flawless complexion and texture to the face.
How to apply makeup primers?
Makeup primers are applied best with the fingertips. Primers are always applied after daily skincare and before applying foundation and concealer. You can use any type of primer but always apply it in thin layers and apply as much as you need. Some primers will be needed to be applied heavier based on the skin type of the person while others can be applied more sparingly, so you first have to try and then do the final testing.
How to apply pore-filling makeup primer?
This is quite an important aspect for all makeup lovers and especially for those who have open pores. Pores are a major concern for the ones who have them on their face and thus thereafter makeup look is not up to the mark. Deciding to give my pore fillers and smoothers another go, instead of massaging the primer into the skin, use the primer gently pat and push the primer onto the areas where you have large pores. A small change, but an important one, to apply a primer in a proper way.

Why this works?
When you massage pore-filling primers on your face, make it less effective for smoothing and filling. Instead of patting and pushing the primer on the face, create a thin layer of primer that sits on the top of the skin and fills in all the imperfections below it. Just make sure to smooth out the edges of the primer, make it sit seamlessly on the skin, and not look noticeable or heavy.
Apply makeup primer like a pro
Applying a Makeup primer is quite easy if you get the right trick. Below are a few steps which will help you in applying primer like a pro.
Prep your face by washing it with a mild face wash and moisturize it in a way that your skin is ready. You can use ice too to tighten your skin and minimize the pores.
Your hands should be clean and dry. Squeeze out a dollop of primer on the back of your hand. Use a finger and start dotting the product all over the face.
Then start dabbing the product on the skin and make sure it goes to every part of your face around the cheeks. Nose, forehead, and skin.
This step is not necessary for all, but if you are still not satisfied with the coverage, take a damp beauty blender and get to dabbing the primer into crevices which do not reach with your fingers. And you are done.
The best technique to apply a primer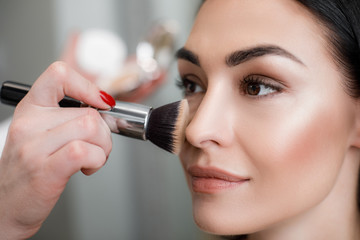 You must have done much research on the internet and sometimes got unsolicited advice from friends on how to apply the primer the correct way. There is no wrong way to use a primer. Whether you have dry or oily skin or you are using a little or a generous amount, if the primer does its job, you are good to go. As it is a pre-base product you don't need to worry too much as it is going to get hidden under the foundation. But you should keep in mind why you are applying primer and if it ticks all the boxes.
Fingers- Many makeup artists believe using the finger to dab and blend the primer is the easiest and best way to apply one. You are in control of spreading out the product and getting a smooth and perfect finish. But make sure that your hands are fully clean and dry before using this method.
Makeup brush- If you are into cleanliness or don't want to get your fingers messy, use a makeup brush. If your focus is for the makeup to last long, this method works well. Using a buffing brush sets the primer to be fully absorbed by your skin and gets your face ready for the foundation. This way your makeup won't melt away in the hours to come. A brush also helps the primer reach crevices and the inner corner of your eyes.
Makeup sponge- From blending your foundation to contouring your face, it works wonders at various makeup stages. Many beauty enthusiasts swear by its excellent results as it helps smoothen out wrinkles and pores to give the illusion of a flawless texture. Only damp the sponge and get to dab the primer so that it evenly spreads all over your face.
What are the different types of face primers?
Primers help in color-correcting, redness, and blemishes to mattifying oily skin, there are many primers which serve various purposes and help work around different skin conditions. If you feel like skipping out on a full face of makeup, you can opt for a hydrating primer as your base and go on about your day. Below are the types of primers:
Colour correcting Primer- Colour correcting primers are of different shades so that they cancel out the blemishes. If you have red and irritated skin, use a green color primer. Pink does wonders for dark circles while purple is for yellow blemishes.
Anti-aging primers- These primers smoothen the skin and have repairing elements which help the skin's texture. They also have SPF which acts as a shield for your skin against harmful UV rays and delays aging signs. It hides fine lines by using a lighting trick as the light reflects off the skin and blurs imperfections instead of magnifying them.
Illuminating primers- These primers go even further as they consist of luminescent elements which add a glow to your skin. This makes the skin look dewy and moisturized especially if you apply it on the high points of your face like cheeks, forehead, nose, and chin. You can forego the foundation, as it doubles up on a base and gives you a natural highlight.
Pore-minimizing primers- A normal primer creates a protective barrier between your pores and the foundation, a pore-minimizing primer also helps reduce the appearance of large and open pores. It works well in tightening and shrinking them too.
Mattifying primers- If you have oily skin and are tired of looking sweaty and dull all the time, then all you need is a mattifying primer. It soaks the oil and sweat and literally gives a matte finish to your face. It is also non-greasy and is usually made of lightweight formulas so that your base does not get cakey.
Hydrating primers- If you deal with dry and flaky skin, all you need is a hydrating primer. Wearing makeup can lead to dryness and so a hydrating primer comes to your rescue. A hydrating primer smoothens the texture of dried and flaky skin while also moisturizing it.
How to choose the correct primer according to your skin?
Dry skin- If you have dry skin, you need hydrating primer. It will do wonders for your skin. You need a gel-based primer which not only will moisturize your skin but also make sure that your skin does not dry out further when you apply makeup. It blends easily even if you have flaky patches and helps get a smooth finish.
Oily skin- Go for a mattifying primer if you have oily skin as it keeps excess sebum production in check. This will also help in getting rid of sweat and a shiny look by giving a matte effect. These types of primers also treat the buildup on your face so that can get to applying your foundation without worrying about a textured finish as it smoothens your skin. It is known for its powerful mattifying effect.
Sensitive skin- All the primers in general are good for sensitive skin. It makes a barrier between your face and the products which make up your final look. If your skin is acne prone, they also soothe your skin. Go for a non-comedogenic primer as it helps in the prevention of breakouts, moisturizes, and is gentle on the skin.
Can you apply primer after the foundation?
A good primer helps in making the skin look fresh, healthy, and poreless. Applying primer over the foundation can give any look more beautiful and gives a flawless finish. This can make a huge difference as it gives the skin a more even look without any obvious pores. A bit of primer on top of the foundation can work amazing for setting the makeup and is less obvious than a setting powder. It is also an easy way to touch up makeup. But there are some factors which should be kept in mind before applying the primer over the foundation.
Choose the best formula- The most important thing to keep in mind is that primer is that they can make or break your makeup application. The type of formula used will determine how well it sits on top of the foundation. Some primers can be too thick for application on top of a liquid foundation and many others don't dry down fully, leaving an oily layer on top. The best primer formula should look natural when applied over the foundation. Select a lightweight primer which can easily blend into the skin. Avoid using a thick hydrating primer with heavy moisturizing ingredients over your foundation. These may cause your makeup to look worse. While tinted primers can be used on top of the makeup, clear primers are the best for giving a natural look. Color-correcting primers cannot be applied on top of makeup. These primers come in various colors like green, yellow, or orange. They help in getting rid of redness and dullness and that is why they should be applied before foundation.
Match primer with foundation- There are many types of primers available in the market. Choose a primer and foundation with the same base ingredients. It is an important step in any makeup routine as it prevents the foundation from separating throughout the day. The main idea is to use a water-based foundation with a water-based primer and a silicon-based foundation with a silicon-based primer.
Primers work amazingly to give the makeup an extra boost especially if you are looking to blur pores or add some glow to the face. You can use one or many primers depending on which problem areas need more attention than others. Many people think it is better to apply primer before foundation as it has a sealing effect.