The beauty industry is rising day by day and there has never been a better time to begin a wholesale makeup business. Wholesalers from around the world are turning to the digital world to build their beauty brands on top of their own. Below are some of the basics of the wholesale beauty industry that entrepreneurs can follow to start a wholesale makeup business of their own.
Why sell wholesale makeup online?
Many industries have sprung back to life after the mismanagement and uncertainty that they faced earlier. The beauty industry has not only made a comeback, but it is moving forward at a significant rate. This industry has grown from $483 billion to $511 billion in the last year. The industry is expected to grow to a whopping $784.6 billion by the year 2027. This growth gives opportunities for aspiring entrepreneurs who want to start selling wholesale makeup brands. The accessibility of the digital world is making it very easy than ever to get in on the action. Feature-rich B2B eCommerce platforms make it possible to reach buyers from around the world.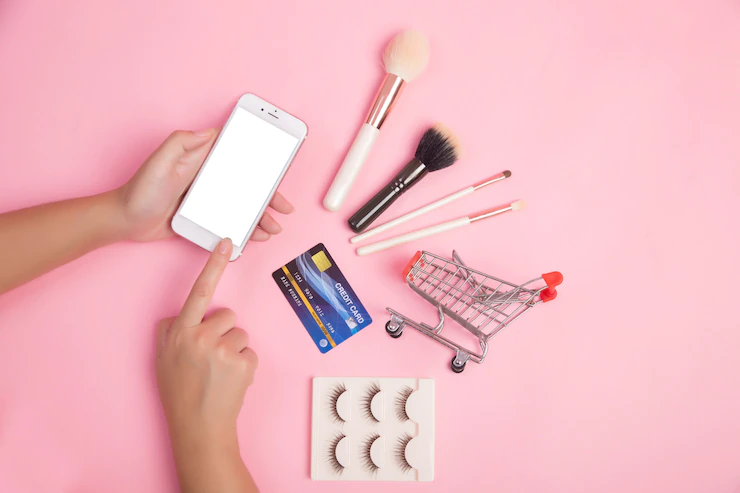 Below are a few steps which will help in selling wholesale makeup online
To begin with a wholesale business in the makeup industry, proper time and planning are required. When you are making an operation with lots of moving parts, it is essential to build a solid foundation. The steps below are for the entrepreneurs can follow to begin a wholesale makeup business.
Study the makeup industry- Before you take any decision or action for starting your online makeup business, it is a good idea to get familiar with the wholesale beauty industry. You have to compare the famous brands in the wholesale beauty space. Identify what seems to be working and what is not. Look for the deficits you can fill.
Identify your audience- When you are done with some research and developed a better understanding of the wholesale makeup industry, it is time to get to work. The next step is to identify your target audience. As a wholesaler, you will be selling to makeup retailers. These retailers are however not specific enough since there are many types of retailers.
Here are a few questions to ask yourself as you determine who your target market will be. 
What type of consumer does your ideal customer serve?
Do you need to target high-end retailers, budget stores, or somewhere in between?
What geographic region will you serve?
Will you sell to eCommerce retailers or retailers with a brick-and-mortar store?
What will be the size of the companies which you would like to sell?
Are you interested in selling to salons, boutiques, or some other similar vendors?
Understanding who you want to sell to and who will give an advantage from your offer will help as you build your wholesale makeup business. Most of the decisions you make move forward all tie back to who your niche market is.
Select the products to sell- As you have a better idea of the target audience till now which you want to serve, it is the correct time to choose which products you will offer. There are various approaches that wholesalers take to select a product to sell. Some are passionate about a specific item, and some are only interested in items that have proven profitable. The top makeup products are liquid blush, liquid lipstick, lip gloss, glitter eye shadows, mink false lashes, and plant-based false lashes. The skincare products and fragrances also fall in the beauty section and present a lot of potential too.
What is interesting about the cosmetic industry is that there are many types of products and variations of products to choose from. For example, if you want to sell lipstick, you can break this product down by-
Quality- luxury, drug store, middle of the road
Type- matte, cream, liquid crayon, glossy, metallic
Color variations- basic collection, full range of basic colors, neutrals
Specialty- theater, special FX, waterproof, long-lasting
Ingredients- organic, plant-based, chemical-based, vegan, cruelty-free
This does not even start to get into lip balms, lip liners, lip serums, and other products of lips. It is a very good idea to start small with one product or a small range of products. Doing too much too fast could get overwhelming. You can incorporate new products down the road as you grow and scale your business.
Find a supplier- You need a supplier unless you are manufacturing your products in-house. All you have to do is enter the product that you are looking for in the search bar at the top of the page. Once the results appear, you can filter them to narrow down your search. You can further filter the results based on the supplier type, product type, minimum order quantity, price range, and more. You can reach out to various suppliers to learn more about rates, fulfillment processes, and such. We suggest requesting samples of products from various distributors and considering various offers before making a final decision.
Another way of finding a supplier is by posting on the request for quotation platform. This permits you to make a post that explains what sort of cosmetic products you are looking for so that suitable suppliers can reach out with a quote. You can add details about the product you are looking for, the sourcing type, the quantity needed, your budget, and more. This is visible to over 175000 active suppliers. You get various quotes and compare offers to look for the perfect match.
Look for a warehouse- A warehouse is quite essential for starting a wholesale cosmetic brand. It is essential to look for a place that is centrally located within the region you plan to serve and large enough for your startup operations. You can either go for a rent option or purchase a warehouse, depending on the needs and resources. Many wholesalers begin by renting especially if they have plans to grow their business in the near future.
Decide the business details- There are many moving parts involved with building and operating a wholesale makeup business. This needs quite a bit of planning and preparation in various areas of the business. Some specific details to take care of are as follows-
Select and register your business name
Get insured
Make sure that your offers meets FDA regulations
Work on your budget
Hire a team
Work on branding, marketing, and advertising
We suggest documenting every decision you make, you can turn these notes into a business plan. This kind of documentation is required in the event that someone has to take over the company in your absence.
Make online storefronts- Once all of the details are taken care of, it is time to start building out your online storefronts. The wholesalers can make storefronts on independent websites or an established eCommerce marketplace. Each of these options comes with unique advantages and disadvantages. We suggest creating digital storefronts on both to take advantage of all the potential benefits.
Start selling- Once you have got your inventory and your online store is complete, it is the correct time to launch your business. While some businesses rely on the tools of an eCommerce marketplace to generate leads and make sales, it is smart to incorporate various sales channels. If you are planning to keep things fully online, social media platforms can help you in networking and connect with buyers. Facebook, Instagram, LinkedIn, and other sites are some great platforms for connecting with other professionals.
Tips for growing a profitable online makeup business
 To start a business is one thing, but growing it into something profitable and scalable is another. Here are some of the tips for maximizing your success in your online makeup business.
Prioritize customer service- Customer service should always be at the top from the moment you launch your business. Customer service as a priority means being accessible and accommodating to every customer you serve. Be sure that you give your customers the ability to voice their thoughts and opinions on your services and work hard to make every experience a good one. There are some benefits to prioritizing customer service. Firstly, it will help you in retaining customers. It can be expensive to generate leads and onboard new clients. So developing long-term relationships with buyers is important. Also, one of the best forms of advertising is word of mouth. When the customers are happy, they will create a buzz about your business. This will help to continue to generate leads and expand your clients.
Use MOQs- The wholesale prices are lower than the retail prices. To make transactions worthy and maximize their profits, many wholesalers put minimum order quantities in place. You will have to crunch the numbers to look what MOQ works for your business. Once that is fixed, we suggest increasing it by 20%. You can have some flexibility this way when you negotiate with potential buyers. They will feel like they are getting preferential treatment and they do not have to worry about going in the red. Some wholesalers use tiered pricing to accommodate buyers with various needs. Like, an order of 1-1000 units is one price, an order of 1001-2000 units would be priced a little lower, and an order of 2001+ units would be cheaper than the second tier.
Hire wisely- As you build your team, be cautious while selecting who you bring on board. Be sure to hire people who are reliable, and trustworthy. As you interview candidates, keep your focus on those who have the same vision of customer service as you. Select people who are passionate about the job, no matter how big or small a task will be. Keep in mind that a chain is only as strong as its weakest link. The same idea applies to your team.
Invest in inventory software- It is one of the best hacks for managing a wholesale makeup company. This tool will help in saving a significant amount of time and neglect unnecessary human error. Select an inventory which integrates with your eCommerce marketplace or other business platforms to streamline your operations. Some of the best inventory software include Cin7, NetSuite, and Bright pearl.
Be consistent- The procedure of resuming and building a wholesale business can be a long one. You should remain focused and consistent if you want to achieve results. It will take some time to get things up and running, so be sure you continue to put your best foot forward. Even after your business is off the ground, keep dedicating the same level of passion and effort. Do not lose steam once you see the money rolling in, as this is still just the starting.
You must have a unique logo. All the global brands have one thing in common and that is unique logos. Google, Samsung, Coca-cola, Pepsi, Nike, Starbucks, and many more brands of global reputation are identified by their memorable logos. This shows the importance of logos for business promotion. In a cosmetic company, think of having a uniquely designed logo. A logo design that stands out from the crowd of your competitors is a visual treat for your audience. Your logo will speak volumes about having your brand identity. The logo will be present everywhere in your advertisements and marketing plans. Create a memorable cosmetic logo that is worthy of representing your company in a competitive market.
Conclusion- People are naturally attracted to offers which are enticing to them. Like, if your cosmetic business provides a good deal on your products, they will think of buying those items immediately before the offer ends. So, you can lure them with huge discounts on the key cosmetic products to attract them to buy. Think of some offering deals like buy one get one free or a gift for purchasing an item and so on. Marketers use these ways and you must promote cosmetic products aggressively in these ways.