Eyeshadows are an amazing way to enhance your eyes but getting your eye makeup on point can be a bit difficult. But there are many questions in the mind of people like which colors will suit their complexion, how to pair eyeshadows and lipsticks, which are good eyeshadow brands, and how to apply eyeshadow, which probably keeps you away from getting experimental with eye makeup. Make sure you have a combo of light, medium, and darker shades. Pair colors that are in the same color family or they are the same. If you are wearing a colorful look, always choose a pair of neutral eyeshadow shades to balance the look. Mix finishes if you are going to wear shimmer, include a matte in your crease. Below you will get to know the answers to all these questions.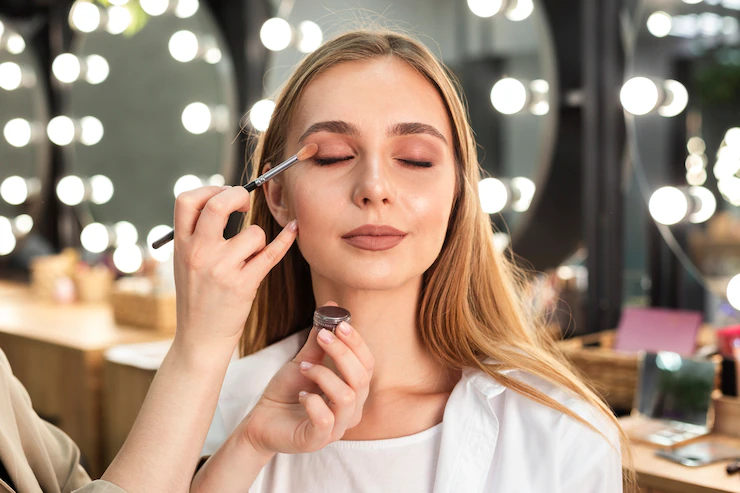 How to choose the right eyeshadow for your skin color
Eyeshadow color combinations for light skin- For fair skin with a warm undertone, earthy colors like cream, bronze and copper bring out the best of your complexion. For those with a cool undertone, jewel colors like emerald green and sapphire blue would make your complexion pop. Pastels would look good on both the undertones.
Eyeshadow color combinations for light brown/wheatish skin- Most people with light brown or wheatish complexions have warm undertones. Gold, cinnamon, and rust complement this tone the best. You could even use darker browns to make bold smokey eye makeup.
Eyeshadow color combinations for olive skin- The ones with this skin tone can go for cool shades of eye shadows like teal and different other shades of blue. The teal color helps accentuate this undertone making you look fresh and not washed out.
Eyeshadow color combinations for dark tan/brown skin- This complexion has a neutral undertone, which means it is neither warm nor cool. If you have dark brown skin, every eyeshadow palette looks perfect on you. You can go ahead and try them all without any worry.
Eyeshadow color combinations for dark skin- Metallics and bright colors look amazing on dark skin, mainly purples, teals, and midnight blue. With cool tones, women with dark complexion need to be careful about the quality of the pigments so that the color comes out well. On the warmer side of the color palette, our experts recommend rose gold and coral.
Step-by-step guide on how to apply eyeshadow in a proper order
Bad eye makeup can spoil your look. And good eye makeup can add enhance your look even to the simplest outfit. Below are the steps on how to apply eyeshadow in the correct way.
Step 1- It is quite important to learn how to prep your skin before putting on any makeup. The first and major thing is cleansing and moisturizing so that the makeup has an even base to sit on. Cleansing your skin would remove any excess oils while moisturizing will prevent your skin from drying out. You have to first wash your face and then apply moisturizer. You could apply some eye cream on the lids and around the eyes.
Step 2- Applying primers is essential for any kind of eye makeup, from simple single eye shadow to a dramatic smokey eye. Not only does a primer acts as a base which holds all your makeup together, but also as a protective layer between the makeup and the delicate skin of your eyelids. Then use a concealer to cover up dark circles or any marks around your eyes.
Step 3- Apply a neutral shade all over your eyelid. Then apply a light shade to the area starting at your last line and move to just above the crease. Don't apply the eyeshadow to the brow bone. Begin from the center and move inwards. Run a flat eye shadow brush over the dark eye shadow and tap off the excess. Apply the color in gentle pats beginning at the outer corner and slowly moving inwards. You need to make a V-shape following the natural outlines of your eye. One line must extend towards where the crease meets your brow bone, while the other stays close to the lash line. Move towards the middle of your eyelid.
Step 4- Line your lower lash line with an eye pencil or kohl. Use a liquid eyeliner to line the upper eyelid. You can go with a simple line or try any of the latest eyeliner trends.
Step 5- Finish off with mascara. Apply some clear mascara on your eyelashes and you are done.
How to select the best eyeshadow palette based on your eye color
Just like the undertone of your skin, the color of your eyes brings out the best of your eye shadow. When we look at makeup commercials and fashion blogs, the superstar in us wants to try out those cool shades of eye shadows in the market.
Brown eyes- This is the most commonly found eye color in India. you can choose for easy soft nudes or shades of browns and a funkier look, you can finish it off using a pinch of glitter and add a touch of smokey eye makeup to it. These shades will deepen your eyes and will surely bring out the best of every makeup and outfit.
For grey eyes- The makeup experts suggest you go for eye shadows in similar lines as your eye color. Shades of grey look perfect on women with grey eyes. You can choose shades of black for a smokey eye effect.
For black eyes- The women who have black eyes are blessed. You can flaunt any eye shadow to bring out its brilliance. These can go with shades of nudes, to pinks and reds you can even opt for Pantone color of the year 2018 which is ultraviolet.
For brown eyes- Similar to black eyes, women with brown eyes have options when it comes to selecting eye shadow colors. We suggest you try out shades of navy, bronze, purple, teal, golden browns, burgundy, and pink as the earthy hue of the eye color, women with brown eyes can easily pull off these colors.
Blue eyes- This eye color is rare in India. women with blue eyes have a very cool undertone and we suggest you steer away from any shades of blue as it would only make your eyes look washed out. You can go for rich browns, gold, peach, coral, champagne, beige, and copper eye shadow palettes.
For green eyes- Women with green eyes can choose taupe eye shadow. This is a shade of grey with a tinge of brown. This shade of eye shadow can make your eye look appealing and beautiful. If you want to play around with different shades, you can also try out brighter shades of purple, red, plum, and golden to brighten your eyes.
For hazel eyes- If your eye color is hazel, you can play with so many various eye shadow colors. You can choose a palette which has hues of gold, cream, dark green, brown, and light pink in them.
Eyeshadow color combinations you must try
Gold and nude- This is the best eye shadow palette combination for a subtle eye effect. Shades of nudes keep your look effortless and a touch of god works magic to add that extra shimmer to your eyes. Overall this combination provides you with an elegant look.
Burnt orange and navy- For women who love the bold and beautiful look, this eye shadow palette combination works the best. The combination of burnt orange and navy is an old classic and can be used for light day makeup and evening party makeup as well. The trick to applying a perfect eye shadow is to blend it well. So keep blending until you get that smooth matte look.
Rose and champagne- This combination is love. It is subtle, and fresh and accentuates the feminine charm of your face. It is a perfect pick for workplaces and parties alike.
Cream and taupe- Taupe eye shadow works best on olive skin tones. This shade combined with cream is the same as what you need for a day out. This work with any outfit.
Beige and grey- The combination of beige and grey makes for another eyeshadow palette which works well with any outfit and occasion.
Coral and pink- This combination brightens up your eyes.
A step-by-step guide to smokey eyes for beginners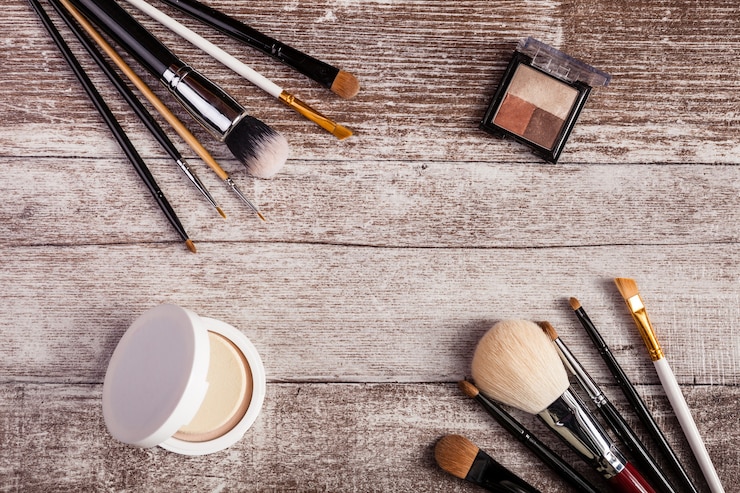 No matter what your eye color, complexion, or skin undertone is, the smokey eye look is one eye makeup style you can never go wrong with and it is always in the trend. The trick is to get it done correctly with the correct steps or you could end up looking like a panda.
Step 1- Apply a base color or a transition shade. The trick of the smokey eye look is to go from a light shade to a dark one. The base eye shadow plays the role of a transition shade and prevents the two main eye shadow colors from sticking out as two different shades, mainly the darker shade. Nude shades like beige, taupe, peach, and brown tints make for good transition shades and base colors.
Step 2 – Deepen and define the crease. Then apply the lighter of the two selected shades, along and below the crease line, to deepen the color and define the crease.
Step 3- Fill in with an eye pencil. Use a black eye pencil to color the area closest to the lash line and blends it with an eye shadow brush. The eye pencil acts as a sticky base for the black eye shadow, making it last longer. When you will blend this area, begin from the lash line and work your way up toward the middle shade.
Step 4- Apply the black eye shadow. Apply the eye shadow over the area colored in with the eyeliner. Start at the lash line and continue upwards towards the crease.
Step 5- Repeat the steps on the lower lash line. Use a thin brush to apply the eye shadow to your lower lash line. Begin with the neutral and then medium shade and then black.
Complete this look with eyeliner and mascara. And you are done.
Tricks to make eyes look bigger using eyeliner
Eyeliners can help in mastering the eyes to look bigger. Using various types of eyeliners and colors, you can create different looks to get your eye makeup game on point.
Apply white eyeliner on your waterline- Black eyeliner can define the shape of your eye as it attracts attention. Since the upper lashes define the upper lash line whether you use eyeliner or not, kohl on the waterline completes the shape. The white liner looks a bit harsh so you can apply a flesh-toned eyeliner. It will neutralize any redness of the skin around the eye and make your small eyes look bigger.
Hide dark circles- Dark circles can make your eyes look small and tired which is the main reason why you need to apply a brightening concealer to cover the darkness. If you have pigmentation, you can use a color corrector first and then concealer on the under-eye area for a perfect look. Complete your look after curling your lashes and applying a couple of coats of your favorite mascara to open your eyes even more.
A thick eyeliner which has the same thickness in the inner corner and the outer corner of the eyes adds depth to the eyes and does not help in any way in creating the illusion of bigger eyes. If you begin with a thin line in the corner and build the thickness as you come to the outer corner, it creates an illusion of wide-open eyes easily. It is quite easy to create this look using a liquid liner but you can also use a gel liner or pencil liner.