Your wedding is possibly the most photographed day of your life. And there are so many things you need to make sure are done perfectly on the big day from seating arrangements and music to catering and décor. Some aspects of planning unexpectedly take a back seat which includes your wedding day makeup. But let us bring your bridal beauty look back to the top of the list. As far as makeup goes, we are almost positive you would want to neglect as many blunders as possible, so we have tapped some of the beauty world's most knowledgeable experts for all of their wedding day makeup dos. Below are a few pointers that every bride must know.
Take your wedding season into consideration- A famous celebrity makeup artist Amber Dreadon says, A bride should absolutely tailor their foundation selection to the elements she will be in for her wedding. If it is winter you will want a foundation that won't look too dry or flat…if it is summer you don't want anything that gets too shiny too fast. If your wedding takes place from daytime to nighttime, opt for something long-wearing. For summer brides, it is important to prep the skin with an anti-shine water-resistant primer like Becca's Ever-Matte Poreless Priming Perfector, as advised by makeup artist Chauntal Lewis. I would use a fuller coverage foundation, like La Mer's Soft Fluid Long Wear Foundation for fall or winter weddings.
Select a lipstick or balm you feel comfortable in- The lips are quite important, says Smith and Cult Beauty Ambassador Elena Miglino. She further says, I always tell my brides to spend some time at the makeup counter and try on all the possible shades, and when you know, you know. She then adds, I personally love a natural lip. First, you need something that will stay all day, like Smith and Cult's The Tainted Lip Stained Flatte. I love the color Kissing Tiny Flowers. It is pretty much a natural lip shade that we all need, not too brown and not too pink. If you want to highlight it up a little, try adding some other shade to make it a neutral look.
Drink lots of water before the big day- This top is one to follow all year round but it is even more important as your wedding day is near. Miglino says hydrated skin will allow for the best application of makeup. The National Academies for Science, Engineering, and Medicine suggests women drink 91 ounces of water per day or 11 to 12 8 oz. glasses.
Have a makeup trial- A makeup artist says, Most freelance makeup artists will offer a bridal trial separate from the actual wedding day. The trial is so important. For you as well as the makeup artist. Having the option to sample various looks means that on the big day, you'll feel confident and content knowing that the look you're wearing is suitable for you and is going to last.
Use waterproof products- Waterproof everything! Additionally, try to keep a beauty blender handy to blot any tears you may shed. In contrast to leaving streaks or wiping the product away, this will push the product into the skin. It doesn't even have to be expensive. L'Oreal's voluminous lash paradise mascara is a drug-store formula, smudge-proof that wards off raccoon eyes in the weepiest- no happiest brides.
Find a balance in your look- If you are going for a smokey look, go light on skin makeup and choose a natural color on the lips. If you go for bold lips, go light on the skin makeup. Usually, brides prefer using matte lipstick, for it is more long-lasting and needs less maintenance.
Keep a few products on-hand throughout the day- Lewis, a makeup artist says, I always leave my bride with her lipstick and blotting papers. She further says Translucent powder or blotting papers for shine is key to keep on hand. Dreadon says, Blotting papers are a must, a pressed powder in a compact so you have a mirror on-hand, and lipstick or lipgloss to touch up throughout the day.
Make sure your foundation is a perfect match- Miglino says, Your foundation should be as close to your skin tone as possible, or the tone of your neck. You will be photographed nonstop that day and the last thing you want is for your face and neck to match.
Apply moisturizer before you self-tan- St. Tropez says, Your secret weapon when applying self-tanner is using moisturizer as a barrier. Apply prior to application on problem areas so that they don't go any darker (which focuses on the elbow, knees, hands, feet, or any servers dry areas) Never moisturize the full body, as it will dilute your self-tan color. To make the tan look natural, apply moisturiser afterward and mix it in around the hairline, heel, and wrist crease. We're mixing and fading for perfection since your tan is your paint and your moisturiser is your water.
Use a teeth whitening product- Miglino says, A smile is something you will be wearing that day and you will want your pearly whites white. You should start utilising teeth whitening at least a few months before the big day, depending on the product.
Tips for a winter wedding
Winter is the favorite season for most people. And most of them prefer to marry in winter as it is considered to be one of the best seasons for brides to be. And now we all are set to replace our summer dresses with hoodies and jackets, we also hear wedding bells around us.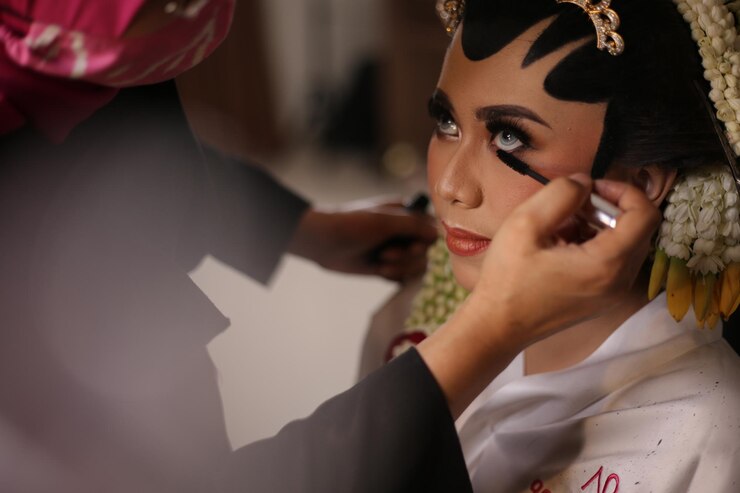 Once you are all set to level up the glam quotient with an ethereal lehenga, it is the correct time to amp up your makeup game. The basic key to rocking the winter bride makeup is to get ready and prepare yourself in advance. Below are some of the tips which will get you prepped for your winter wedding.
Begin with the basics- Winters can be drying and whatever your skin type, you need proper hydration to get that amazing glowy skin. When it comes to pre-bridal makeup you have to begin prepping your skin months before your wedding. Follow a proper cleansing, toning, and moisturizing routine to prep your skin for the season. To maximize the amount of hydration, use serums which are rich in hyaluronic acid. If you need plump, dewy-looking nourished skin, this serum is perfect for your skin. It not only restores the skin's moisture but also ensures illuminated skin. Then choose an illuminating moisturizer as this will keep your skin nourished and luminous. You can also try placing a humidifier in the room as it increases the level of moisture in the air and this will help in supporting your skin to be hydrated.
Place your bet on glowy makeup- Fall weddings are not complete without clean, nourished, and flawless skin. Winter glow does not always involve relaxing on a tropical island. Just a quick adjustment can prove you lucky with that dry, sharp, punishing air. One of the most important roles all winter brides should follow is Never to skip moisturizer. Basically, it is a skincare tip, but when it comes to pre-wedding makeup, it is helpful to nourish and hydrate your skin properly. Switch to a hydrating primer instead of the usual oil-reducing one. The nourishing primers add glow from within instantly. Choose cream-based products over matte or powder. There is no worse blunder than having cakey makeup at your wedding. Use a liquid foundation as this not only glides smoothly and won won't settle into flakes but also adds a gorgeous beam of like with a natural illuminating effect.
Trendy lip colors for the winter wedding season- Your wedding makeup look is not complete without lipstick. And as it is a winter wedding, the right way to add bold, beautiful hues to your lips is with a suitable lip color. There are a number of shades which you can choose. The one shade which can elevate your wedding look is Bold Red. If you are going for a subtle lehenga, a classic mauve is an ideal pick for your lips as it gives an illuminated effect.
Eyes definitely play an essential role- Selection of the wedding dress can be the most important thing, but choosing the best eye makeup is an important part too. Whether you are wearing a veil or not, eye makeup is a powerful weapon to steal the show. And if you are a nude makeup fanatic, then it is alright to skip defined eye makeup. However, if you are someone who likes a little drama, then add some shimmer to your bridal eye makeup. Douse some metallic pigments on your upper lids and get that twinkling aesthetic. Eyeshadows come in various textures and forms, but the jelly eyeshadow adds the perfect bling you need to your eyes. From bright bronze to subtle champagne, the shades take your wedding look to another level. Just do it and see the magic on your big day.
Minimal makeup for the Millennial bride- If you are a bride who is inclined more towards being simple yet attention grabbing, then this look is perfect for your big day. Minimal makeup is easy to do and is perfect for your other functions including Mehendi or Sangeet. Choose a natural light base for a fresh take on bridal makeup. The flawless base can be prepped with a subtle blush and a dash of lip gloss on the lips, instead of conventional nude lips. Even if you are sure to want to go for a minimal look, you can always experiment with your eye makeup so that it adds a dramatic touch to your ensemble. To make it pop, use voluminous mascara on the upper lash line and get that gorgeous eyes.
Add that touch of glam with shimmer- Amp up the drama in your winter wedding with glitzy makeup to get a head-turner look. Makeup in the present era has morphed into art and when it comes to bridal makeup, you have got to look like the star of the evening. And what is better than adding an illuminating touch with a highlighter? Smokey eyes might be the center of the look for many of the brides but if you like glow around your cheeks, don't be afraid to add that glitter and radiance to your face. Softly contoured lips with a bright pink shade, a look like this will hold up throughout your wedding day.
Things to neglect with your bridal makeup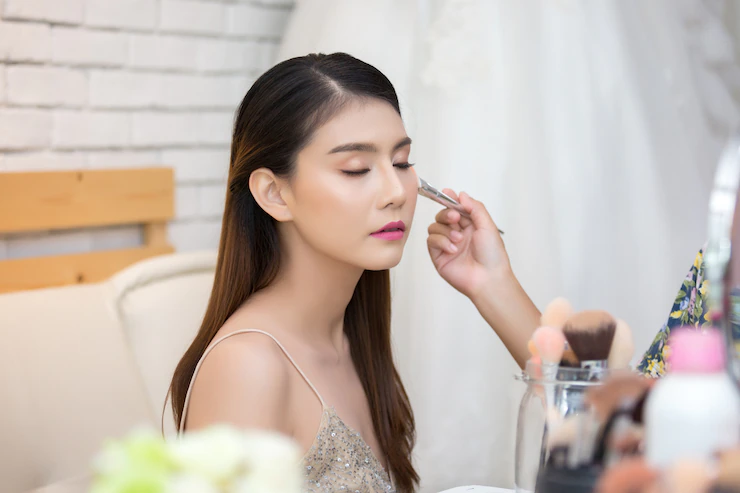 No hands-on makeup practice- Trial plays an important role in events as important as a wedding. Don't mess up your big day by skipping trials and start practicing a month or two before your wedding.
Letting your pals do your makeup- Women fantasise about getting married on the same day as their dearest friends or preparing for the big day together. Don't let your feelings influence how you look by letting them.
Trying new bridal makeup on your own- Your life gives you various opportunities to try new looks but you should never add your wedding day to the list. That's all a lie; you don't need to wear the latest fashion to look stunning during your wedding.
Too many glitters and shimmers- The phrase, Not all glitter is gold, is so true. Only to the point that it appears good for the camera and faces, bling is all that matters at a wedding. Once you put excess glitter and shimmer on your face, it looks extraordinary which ruins your pictures. Natural bridal makeup does wonder in itself.
Wearing water-sensitive makeup- A wedding is a long day with various rituals, unlimited eating, and non-stop dancing. You should not wear water-sensitive makeup asit will float away with the sweat. So to ensure a better stay and complete enjoyment, wear waterproof cosmetics.