"As a makeup artist and small business owner, offering bespoke palettes has been a game-changer for my brand. Customers love the personalized touch and unique color combinations that they can't find anywhere else. Not only has it increased customer satisfaction, but it has also helped me to stand out in a crowded market. By offering bespoke palettes, I've been able to create a loyal following and build a brand that truly resonates with my customers."

– Sarah, Owner of Sarah's Beauty Studio
With the increasing demand for customizable makeup products, investing in bespoke palettes can be a smart move for anyone looking to start or expand their own branded makeup business.
What is bespoke palette?
A bespoke palette is a customized makeup palette that is tailored to your specific preferences. You can choose the shades, finishes, and products that you want to include, making it the ultimate customization for your makeup collection. Whether you're a professional makeup artist or a casual makeup lover, a bespoke palette can simplify your routine and make your life easier.
Why does it become so popular?
Makeup enthusiasts understand the importance of having a well-curated collection of beauty products. Every makeup lover has their favorite brands, colors, and textures that make them feel confident and beautiful. However, it can be challenging to find a makeup palette that has everything you need and nothing you don't. That's where the bespoke palette comes in.
One of the main benefits of a bespoke palette is the flexibility it offers. You can create a palette that is tailored to your unique style and preferences, with shades that complement your skin tone and enhance your natural features.
How do brands deliver bespoke palette service?
The trend of bespoke palettes has been on the rise in recent years, with more and more brands offering customized options for their customers. One popular trend in bespoke palettes is the inclusion of eco-friendly and sustainable materials, such as recycled or biodegradable packaging.
Another trend in bespoke palettes is the incorporation of technology, such as virtual try-on tools that allow customers to preview their customized palettes before purchasing. This enhances the customer experience and ensures that customers are satisfied with their selections.
One brand that has successfully implemented the bespoke palette trend is MAC Cosmetics. MAC offers a range of customizable palettes, including their popular Pro Palette, which can hold up to 15 eyeshadows or other products. Customers can choose from a variety of eyeshadows, blushes, bronzers, and highlighters to create their perfect palette. MAC also offers a virtual try-on tool on their website, allowing customers to experiment with different shades and finishes before making a purchase.
Another brand that has embraced the bespoke palette trend is ColourPop. ColourPop offers a customizable palette option called the Build Your Own Palette, which allows customers to select their preferred shades from a range of eyeshadows, blushes, and highlighters. The palette itself is also customizable, with customers able to choose from a range of designs and patterns to create a truly unique and personalized product.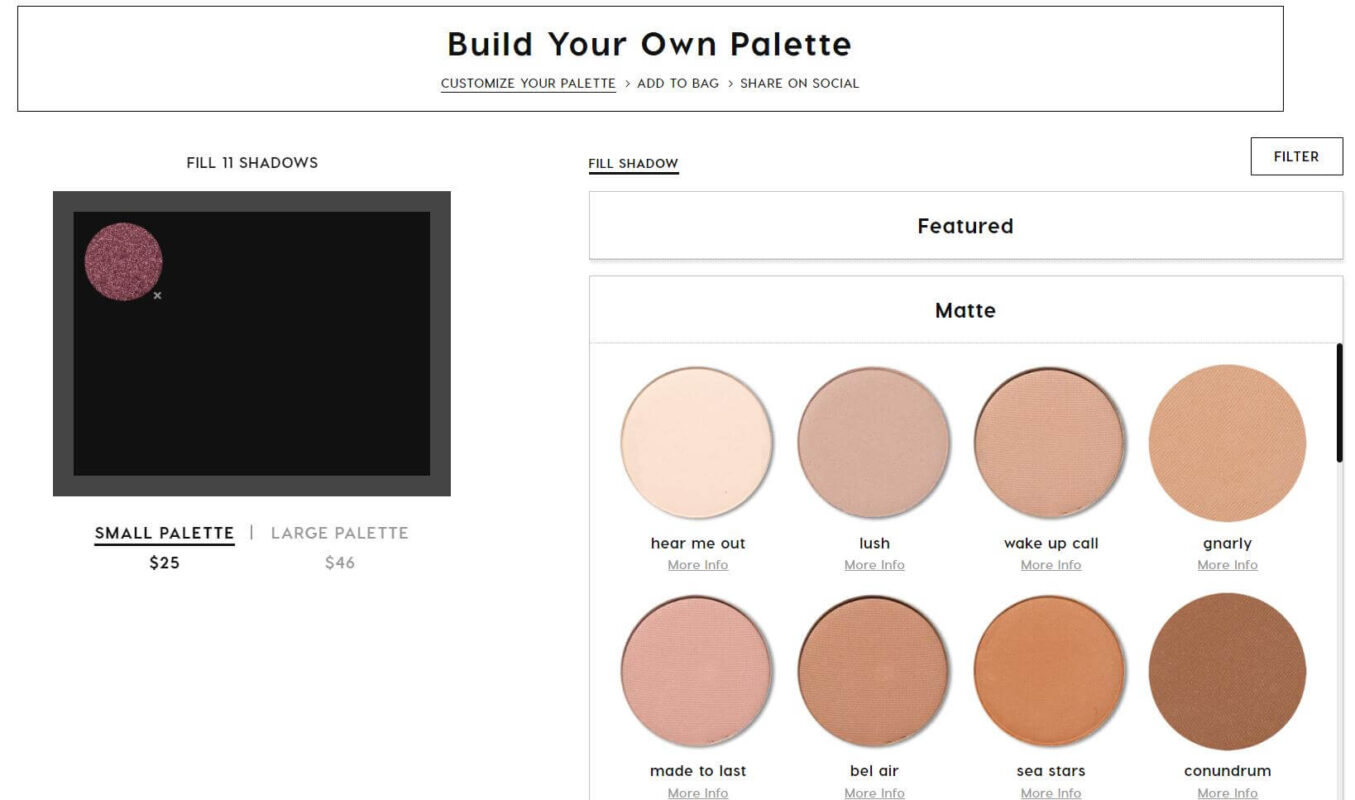 How can we help your brand rise above the competition?
Leecosmetic is one of top private label makeup manufacturers and cooperated with over 200 brands. We offer custom-labeled eyeshadow palette products that cater to the bespoke palette trend. Our empty magnetic eyeshadow palettes come in various sizes and can hold up to 9 or 12 square single eyeshadows. With a mirror inside and a magnetic closure, our palettes provide convenience and durability for on-the-go touch-ups or at-home makeup organization.
Our private label eyeshadow palettes are the ultimate customization for your makeup collection. You can choose your preferred shades from our range of single eyeshadows and create a personalized makeup palette that complements your unique style and preferences. Certificated by FDA&GMPC, our palettes are eco-friendly and sustainable, made with recyclable materials to reduce waste and promote sustainability in the beauty industry.
More to read: